Building & General Contractors
Rock'N Dirt
A division of Water Recovery Services, Inc.
5515 E. 25th
Spokane, WA 99223
Cell: 509-953-1015
Phone: 509-535-0525
Fax: 509-536-7792
www.wrswater.com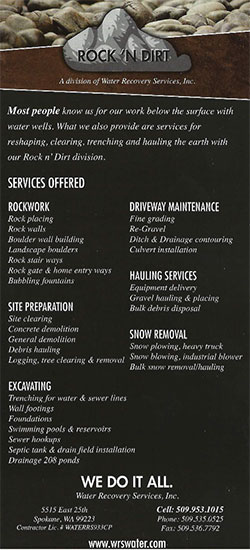 Click on image to enlarge

We analyze building materials for the presence of asbestos.
9922 E Montgomery Drive, Suite 13 | Spokane Valley, WA 99206
Tel. (509) 922-1365 | Fax. (509) 922-1380
"Competitive rates with quick turnaround times."
Mountain Laboratories is a NVLAP accredited laboratory and provides the analysis of suspect bulk asbestos building materials. We also participate in the AIHA Proficiency Analytical Testing (PAT) Program for the analysis of air samples. We have been serving the Northwest portion of the United States since the 1990s.​
Mountain Laboratories offers competitive rates with quick turnaround times. Office hours are Monday through Friday, 8:00 AM to 4:30 PM, with a convenient drop box in the door of the laboratory for after hours sample drop off. We also offer rush turnaround times and after hours services. Please feel free to email or call us with any questions pertaining to our services.
ANGLER FENCING & CONSTRUCTION
I own operate of Angler Fencing and Construction. I worked many years working for other contractors framing, pouring concrete, hanging sheetrock and building fences before I set out on my own. Originally I mostly did residential remodeling bathrooms, and kitchens, but customers asked me to do fencing in Spokane. I enjoyed it more since I was outside so now Spokane fencing and landscaping is my primary work. I have been a contractor for 15 years.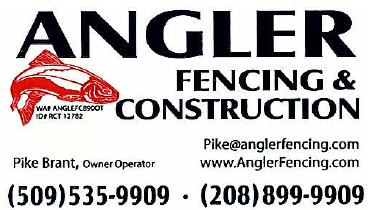 509-535-9909 or 208-899-9909 for a free estimate
Or email pike@anglerfencing.com
© Glenrose Association 2020
Website Maintained By Pegasus Media Group