CALENDAR
3/13 - Glenrose Assn. Mtg., 7pm, Moran Prairie Library, 6004 S Regal Rd

4/11 - Glenrose Assn. Annual Mtg., 7pm, Moran Prairie Library, 6004 S Regal Rd

4/20 - Dishman Hills Guided Hike on Glenrose Trail, 9am to 12pm, Meet at Glenrose Trailhead

4/27 - Annual Glenrose Cleanup Day and BBQ. Watch for more info coming soon
WOMEN'S CLUB
Women's Club Mtg., details to be announced. For more information please contact Stephanie. You can email her at Stephanie@hokanson.net or give her a call - 206-229-7563.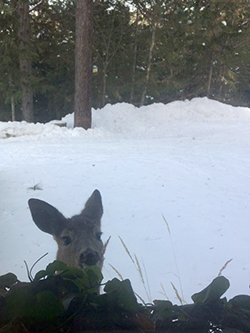 Hunting in Glenrose
There have been inquiries recently regarding the rules for hunting in Glenrose. Click on this link - Spokane Cty No Shooting Areas, to see a map and overview of the rules. Keep in mind there is no hunting or shooting in the Glenrose Conservation Area. For more detailed information on hunting seasons, etc., click on this link - Washington State Fish & Wildlife.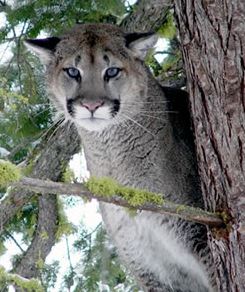 There have been several cougar sighting in Glenrose this year. The most recent one was around Fancher and 32nd Ave. To learn more about the do's and don'ts in Cougar Country click on this link - "FISH & GAME FACT SHEET." And remember, DON'T FEED THE WILDLIFE!
CHANGE OF PLAN
The Glenrose & Carnahan Roundabout has been stalled. The county rejected the only bid it received for the project and will go out for bid this fall for a spring, 2019 start date.
The Glenrose Association
PO Box 30202
Spokane, WA 99223

MARCH 13th 2019
Glenrose Assn. Mtg., 7pm, Moran Prairie Library, 6004 S Regal Rd.
GLENROSE MONTHLY MEETING:
.

JOIN US IN WELCOMING Kile Westerman with WA Dept of Fish and Wildlife
Don't miss the
March 13
, Glenrose Association Meeting at the Moran Prairie Library. Kile Westerman, Wildlife Conflict Specialist with Washington Fish and Wildlife will present information on a subject near and dear to all of us in Glenrose, OUR WILDLIFE. Kyle will bring information on the rules and regulations for hunting in Glenrose and Spokane County. You will learn ways to help prevent issues with wildlife, the do's and don'ts, and how to act or respond to wildlife nearby. Species that will be talked about will range from deer, turkey, moose, cougar, bear, and coyote.
Note - The Wildlife are under a considerable amount of stress this time of year. The pictures below are of a deer eating the ivy off the side of a neighbors home!
See all of you on
Wednesday
night.
Have you checked out the Glenrose Trailhead and trail yet? Join the Dishman Hills Conservancy hike on
April 20th
to see the beautiful views from the ridge above Glenrose. You can register for the hike by clicking on this link -
Glenrose Hike Signup
.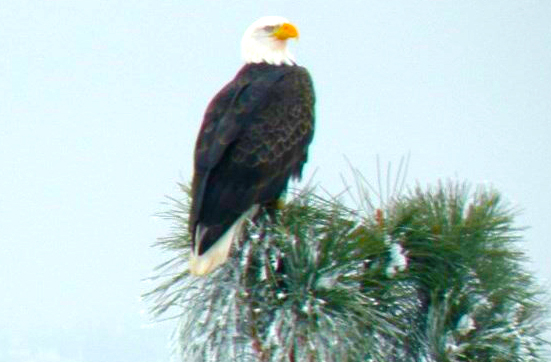 Have you seen the eagles living here in Glenrose this winter. Keep your eye out for these majestic birds and they scour our magical area for food.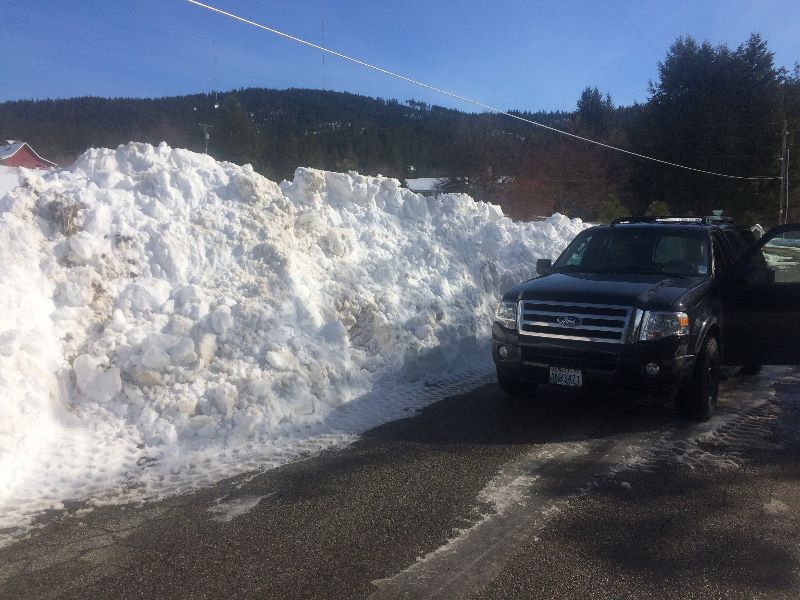 Dyer Road was just opened up from one lane wide. We thought it would be fun to guess when all the snow will melt in Glenrose but maybe many of us would just like to just forget about it!
April Is Renewal Month
Each year leading up to the annual meeting we ask for your support by joining/renewing THE GLENROSE ASSOCIATION. Click on the link -
President's Message
, to read President Bob Hyslop's Letter to kick off this years membership/donation drive. The message has a lot of information about future events but emphasizes the importance of supporting our community through your membership and donation.
So how can you join/renew? We have several options for y
ack; You can click on this link - 2018 Membership Form, print it off, fill it out, and send it back; or you can simply go to the Glenrose website/Membership, Donation tab, click on this link - online membership and join/donate online.
If you have a business and would like to have a free business listing on our website send in copy with your membership form.

You haven't had a chance to fill out your Glenrose Membership application yet? You can now do it online! Click on this link to our website - On Line Membership Application - and join/renew your membership today.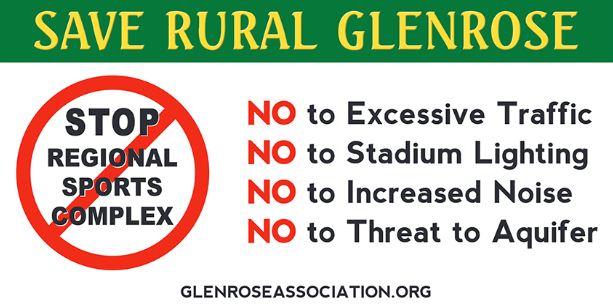 Do you like the new sign at the corner of 37th & Glenrose? If you would like one of your own to mount on your fence they can be had for $174.08. Click on this link - SIGN INFORMATION, for details.
IMPORTANT NOTICE
Help Glenrose renew our FIREWISE STATUS. If you have performed work on your property or had work hired done click on this link - Firewise Form, fill it out and mail or email back to us. It will help us fulfill our $2 per capita per year requirement showing we have worked towards making our community Firewise.