Dear Glenrose Association Members and Residents:
As President of The Glenrose Association I'm very proud to report that yesterday we celebrated this week's installation of two new signs along Glenrose Road. (Please see attached pictures) These signs recognize the association along with the greater Glenrose community, for our national recognition earned for fire mitigation efforts in Glenrose, during 2014.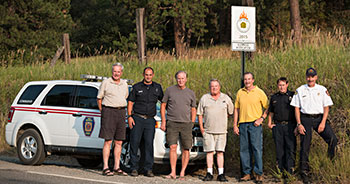 The group photo includes association board members (From Left) Bob Hyslop, Larry Hopkins, Jack Pearson, myself and three of our partners from Fire District 8, including Chief Marty Long. (Far right)
(Click on images to enlarge)
District 8 has been very supportive of our efforts along with the DNR and Spokane Conservation District during this 18 month process. We could not have done any of this without their help. Bob Hyslop has been the associations driving force behind this effort from the start. He is relentless! Way to go Bob!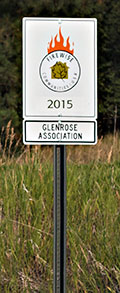 Firewise is an ongoing process to protect our rural communities from the threat of wildfire. We have to continue the effort, meeting annual mitigation and other requirements, for renewal of our national certification. I'm happy to report that we have already met our 2015 requirements for continued certification. Thanks to all of our board members and to all of you who have worked hard to help make this happen, by participating in the program. We can all be proud that Glenrose is making a difference in this critical area.
There has never been a better time to be involved with this program, especially given the current drought conditions. To learn more about the program or get involved please contact me or Bob.
Best Regards,
Richard Brooke
President
The Glenrose Association
© Glenrose Association 2015
Website Maintained By Pegasus Media Group